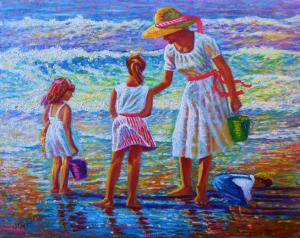 My Painting Sunday Afternoon at the Beach is going National!
JUNE 28, 2012
From:
Stephen Blancett
nalayout@naturalawakeningsmag.com

Subject:
Your painting Sunday Afternoon at the Beach

Message:
Hello Joseph,

I am the Art and Production manager for Natural Awakening Magazine. And we are interested in using your painting "Sunday Afternoon at the Beach" as a cover option for our August issue. Below is a little info about our magazine and how we work the covers.

Natural Awakenings Magazine is a free, healthy living publication that is available in over 90 cities in the U.S and Puerto Rico, with a readership of over three million. We regularly feature artists on our covers. The way the cover opportunity works is that in exchange for us printing your artwork on our cover, we run a bio about you with your website and contact information in the magazine (about 150-200 words in length). This way you get great exposure and we get a...